When you are starting out as a life coach, you might be wondering what the best website for you will look like. You want websites for life coaches that fit your business and can grow with you in the many years to come. But how do you do that? Where do you start? In this article, we are covering all the topics that you that make the best websites for life coaches.
How your website will look will depend a lot on how you would like your business to look. Are you an online entrepreneur you might require something different than when you are looking to coach people one on one in your office? It is important to think about these things before you start on a website. And if you hire a website builder to do the work for you, things like this will also be discussed during the designing process. When you are building your own website, you also need to be sure that you can design one with the result in the back of your head. A logically designed website can make all the difference for your business.
What are the elements of a coaching website?
What makes great websites for life coaches? There are certain elements that every coaching website should have. It doesn't matter whether you are an online coach, you are starting your in-person practice or you would like to fill up your resort. A lot of the techniques will stay the same, but you need to keep the end result in mind. So here are some things your need to look at:
Have a good hosting provider that works well for sites that keep growing
A domain name that is future proof
Your brand should attract your ideal client
Your website makes it easy for you to sell your offer
There are good systems installed in a place that makes the work for you easier
It is immediately clear what people can buy from you
You have a space on there where you can share long-term
content, like a blog or podcast
These are some examples that should work well on all websites for life coaches. Make sure that you are starting out with a good base. That is why we love working with hosting provider NameHero and page builder Elementor (which works well with a WordPress website).
Would you like more information on how to build a coaching website? Then go here.
When you are a life coach for women
Websites for life coaches that usually work with women have to take this into the calculation. This is a fast-growing market and there is indeed a difference in your website if your ideal clients are mostly women. This isn't something very technical though. It has everything to do with your branding. You can imagine that when you work with women, they decide to work with you for a totally different reason than a man would choose.
This is where your ideal client profile comes in. Know who you would like to work with and do not be afraid to niche this down. If you know this bit of information, you'll see that building the rest of your business becomes a lot easier.
Below you see two photos of totally different branding. Both are life coaches, but each of them has a totally different look. Can you tell me what kind of client they like to work with?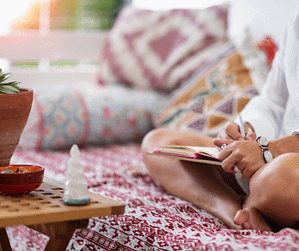 What makes a great coaching website for an online coach?
As an online coach, you might expect a little more from your website than someone who is running a real-life practice. Even though we are long past the time when a simple page on the web was a big enough invite for people to become a client of you, there still is another difference for an online coach.
As an online coach, you expect your website to make you money while you are sleeping. Your website turns into the main employer that constantly invites people to buy from you. In this case, it is so important that all the technique is right in place. Think about your sales pages, webinars, social media, automatic email responders, and easy ways for people to pay.
If you have a real-life office you might prefer that people will pay you in person, but as an online coach that isn't even an option. Especially when you grow, you'll gather people from all over the world. Therefore I would highly recommend going for WordPress and Woocommerce when you are building websites for life coaches.
Website coach templates to sell your programs
After reading all of this, you might be feeling a little overwhelmed. And that is okay. There is a lot that comes to it when you want to start your own business. Especially when this business is a coaching business. Do not try to tackle everything all at once. Take it one step at a time and be willing to invest in programs and coaches. I can guarantee you that things will move a lot quicker when you are not trying to do everything by yourself.
That is also where coach templates for your website can come in handy. Then you already have a template of what websites for coaches should look like. All you have to do then is change the templates to the liking of your own business. You can add in your own text and branding. And within a few days of crafting you can have your website up and running.
If that is something that speaks to you, you can take a look at the Build a website online course. Here you'll learn how to build your website in easy steps in WordPress. And there are even templates that help you build a website.
How are websites for personal coaching services different?
As shortly mentioned above, in theory, a website where coaches offer their services in person is the same as those who online work online. They both need great web hosting, and a page builder that is easy to work with, and they should look at working with sales pages. But then, what is really the difference?
When you offer your coaching service mainly in person, you might not directly need a payment option on your website. You can decide you prefer to take payments from your clients when they come to see you, or you'll send an invoice to them afterward. If that is the case, it makes the technique a little easier as you don't have to install a payment plugin on your website.
Websites for life coaches that sell one-to-one
You can use a scheduler like Calendly to make it easy for people to book a service with you. Or you can simply have them reach out to you through email. Whichever one you choose, it is really important that you make it as easy as possible for people to contact you. People are easily bored and don't like to search for anything.
Another big difference is that you only serve local clients. So you don't want your website to be seen by people mainly on the other side of the world, but by local people. That requires something different in the SEO (search engine optimization) of your website.
The best coach website for your topic
As a life coach, you still cover a pretty big subject. Life can be anything that you choose, so you'll have to niche it down. Are you teaching people to manifest a different life with the law of attraction or are you inspiring people to choose a more healthy lifestyle?
In theory, this won't make a lot of difference to your website. But there can be a lot smaller programs for one topic or a lot more blogs with healthy recipes. The important thing is that you choose something and stick with it. It will take a while before your business becomes really visible.
Providing people with clarity is also very important. You don't have to sell a lot of smaller programs in order to make some money. Just provide your potential clients with a lower and high-end program. You'll see that clarity makes you more money than confusing people about what to get.
Best health coaches' websites ingredients
Health coaches are life coaches but from a different caliber. They teach their clients about healthy food, do yoga or work out training schedules. And for those, I would recommend working on your long-term content. If you are teaching yoga, a YouTube channel might be something that works for you. And when you would like to share healthy recipes or teach more about food, a blog can be perfect for you.
Think of what you have to share as your long-term content and choose a medium to do it with. Video, blogging, or podcasting and link them all back to your website. When you decide to start blogging, it will also mean that your website will grow a lot faster than when you are just having 6 pages with all the information about your business on it. In this case, you'll need the storage space from your web hosting company. Ask them for advice if you have any doubts about what size page you might need.
Looking to read more? Here you can find more on how to build a coaching website.
Creating your Biz also provides you with services to have websites for life coaches build for you. Go here if you would like more information about that.
Or there is the possibility to learn how to build your own website in WordPress. Find out more about this online course here.