When you first start your (online) coaching business, there are many things that will come on your path. Your website is only one of the pieces of the puzzle that you need to have in order before you can be successful. And it is a very important piece of the puzzle. Your website is your number 1 employee. It can make you money while you are sleeping. There is no person in the world who can do the same things for you a website can do at the same price. But you do need a website that is well suited for the work you require it to do. That is where website templates can come in handy.
The best website templates for coaches are the ones that drive you sales. They invite people to buy your products and coaching programs. Your website shows people who you are and if they can be a match to be in your program in the blink of an eye. If you are trying to invite the wheel all over again just by yourself, it can take you a long time before you can actually start working on your business. A website template makes it a lot easier for you if you like to build your own website. And even when I am building a brand new website, I like to use particular templates. Why? Because I know they work. I know they sell. And that is what is the most important thing when it comes to your website.
What should a coaching website include?
Your website is designed to attract clients. And there are a couple of things that need to be in place for it to be successful. That's why your website can be one of the most important investments for your entire business. Especially when you're first starting out. If you have the money to invest I would highly recommend spending money on your website and it doesn't have to be a super high amount. Start with a good hosting company and page builder. It means you can still do it yourself but there are certain things that can make a big difference that is not in a high range of costs.
The best website template for coaches is a good home page
Something every website should have is a good homepage. It is the first thing people get to see. Once they enter your home page they will decide within 3 seconds if they would like to stay on your page or click away. Therefore it is of the utmost importance that you show people in those 3 seconds what it is that you do and how you can help them. If people decide that they are curious and there is something that you have that matches their energy they will scroll further.
Then your homepage has to be inviting enough to show them what it is they can get from you, what it is you have to offer, and what makes you special from all the other coaches out there. Because it is possible to make a difference even though it sometimes seems impossible. This is also where your branding comes in. Colors, fonts, decide to want you would like to say with your photos of you, or whatever it is that you have that matches your brand that is going to attract those ideal clients.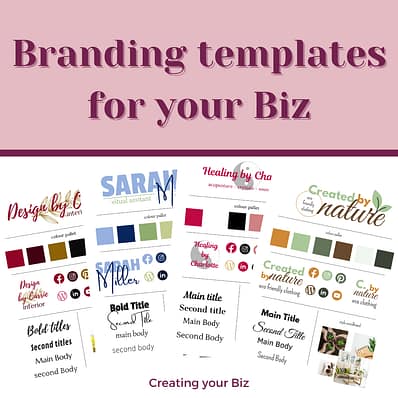 Have a clear vision of your customer profile
Before you even start designing a website having a clear vision of what your ideal client is, is very important. That's how you know what they require from you to buy. Your homepage is really one of the most important pages where the different services are linked. So next to the homepage, sales pages are highly important as they are designed to make people curious so they can scroll through and finally buy your program. A good sales page knows talks to the pain points of your ideal clients are what they need to hear before they will be willing to buy. Because we're living in a fast time not everyone is just willing to buy from you. In just a second tell them what they need to hear. Go into these pain points not to make them feel bad, but so they will recognize themselves there.
Optional pages for the best website templates for coaches
A blog is still one of my favorites even though there are a lot of people saying it isn't fully required. And the fact is there are plenty of other ways to be successful but I still like to use it. You can add pages with a podcast as well. There are so many optional pages out there.
Make it easy for people to reach out
One of the other pages that your website should definitely have is a contact page. Make it as easy as possible for people to reach out to you. People would like to ask questions and would like to know what they are investing their money in. A real person and a real business, one that isn't fake. So make it very clear how people can reach out to you. Don't make them search for it.
Adding all these pages to your website, there are some of the best website templates for approaches that you can use if you have never built a website before. Website templates can be a wondrous outcome. They save you time and money because you don't have to figure things out by yourself.
What do the best website templates for coaches look like?
The best website templates for coaches are the ones that invite people to buy from you. The product you offer in your coaching business is not something that people can physically grasp. People buy a transformation from you. And even though nowadays this is much more out there than it was a couple of years ago, you still cannot sell them something that is physically within grasp. That means that you have to invite people to trust you.
They have to trust you. They have to trust the process you're offering them and that you are the right person for them to go to take them on this journey. That is what the best website templates for coaches do. They gain the trust of your audience. they invite them to learn more about you. The templates have open spaces and are easy for people to read. They add pictures in the right places.
Pagebuilders in WordPress
To make websites with that clear I like to use the page Builder Elementor. Elementor is in my opinion very easy to use for everyone and it also provides that clarity to people. So that's why all of the templates that I offer are made and built in Elementor Pro. This page builder for WordPress includes everything that you need and it makes it look inviting.
So if you are still wondering what the best website templates for coaches look like, Then take a look at my example below. This homepage is inviting and has plenty of space around it. It shows what the business is all about. And it invites people in. The theme is responsive so it shows well on laptops phones and all other devices.
How do you create a coaching website?
You start like any other website. With the basics. You choose a good domain name and a hosting company. I like to use the hosting company NameHero. They provide a good service, answer questions quickly and the websites hosted on there have a good speed.
Once you have chosen a hosting company, it is time to install WordPress. You can do this for free in the cPanel of your hosting company. You might also like to read: How to create a coaching site that works
DIY with website templates for coaches
Basically, you have two options with your website. Build one yourself or have one build for you. Choose something that works for your current budget, but also lets you start your business rather sooner than later. No point in waiting in that creation zone for too long. It would make you any money.
If you decide to build a website yourself, you learn from the people who have the knowledge. That makes your process go a lot faster. I offer a special Build your own website course where you'll learn to build your own WordPress website. And it includes website templates for coaches! Imagine how much time you can save there. All you have to do is fill in your text, fonts, and colors.
You can have a look at Build your website course here.
Have a designer build the coaching website for you
This is the one that is going to save you the most time and will probably cost you the most money. But then you'll at least know your website is perfectly in order and it will look a whole lot better than when you make your own first-time DIY build. Because building a website might seem easy with the nowadays technology, there is a lot more to it than just the building.
Curious how Creating your Biz can help? See how you can get the ultimate website.
*This post contains affiliate links, which means I receive a small commission if you decide to make a purchase. This is of no extra cost to you